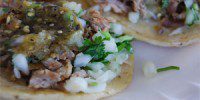 B1 – Intermediate
A restaurant owner in Mexico is offering tacos topped with insects. He has wild items added to his menu such as scorpions and spiders too.
Discuss:
1. What exotic kinds of food do you know or have tried?
2. Are there exotic foods in Spain?
3. For you, is it okay to use and put insects in our food? Why or why not?