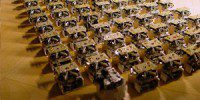 B1 – Intermediate
Scientists have created a robot that can build and fold by itself in just 4 minutes. A researcher suggested that the self-building robot  could be applied to a variety of different problems.
Discuss:
1. How do you think this robot can be useful in space explorations?
2. What do you think of robots in general?
3. How else can this robot be useful?